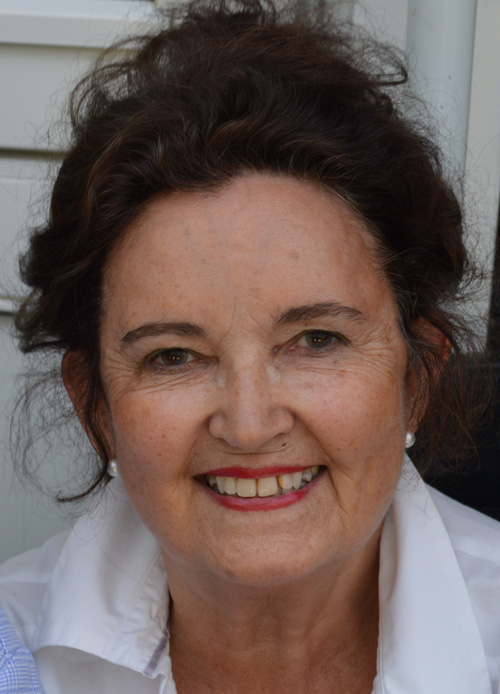 KIRSTEN HØST
Kirsten Høst is a Danish artist, now living in Denmark, who has embarked on a new phase of her life and work, after spending 30 years in London, UK. This new phase emanates from a confident and sure belief and trust, that there is a plan for each one of us, if we allow our true gifts to unfold naturally. This trust has allowed her to find a new vision and a new voice working with oil painting and watercolour/ink/collages.
Kirstens work is strongly influenced by geometry, whish she sees reflected in all aspects of our universe. This theme was reinforced by her meticulous study and admiration of the great renaissance painters in the museums in Italy, where she has spent longer periods of time, especially in Firenze, Perugia and Venezia. Kirsten`s work frequently starts with a geometric shape and with an open mind, and inspiration develops a life and vibration of its own.
Her work has been exhibited in London, Edinburg, Copenhagen, Philadelphia, and New York in the U.S.A and will be exhibited next year in Palermo and Firenze in Italy.
After her first soloshow in London in 1982, Ronald Alley, then curator at the Tate Gallery, wrote: Kirsten Høst`s collages spring from imagination, and symbolizes a whole gamut of emotions. With just a few coloured planes she is able to evoke complete landscapes, light and joy. Other collages depict more dramatic scenes of life, expressing pain and fear, but never without hope!
GEOMETRY I have loved geometry since I was a little girl, and have always had a compass and a ruler with me. Since year 2000 I have studied sacred geometry. My fascination of geometry and my love of colours combined with a wish to express emotions and impressions, have inspired the way I now work I have been searching for many years to find an expression - a voice - which did not come from my brain, but from my being, and I hope this is, what finally has happened. The universe IS a geometric construction, and it fascinates me how simple and at the same time how incredibly complicated it is.
INSPIRATION My inspiration comes from many unexpected corners: something I see in nature - a film - or a dream I have had - but mostly now, when I construct my geometric drawings. Suddenly I will discover something in the construction, and I will develop it without thinking very much. I forget time and place - those hours are VERY happy hours! Standing in front of an old painting, excecuted several hundred years ago, also inspires me. However sophisticated the new photo techniques are - it will never be the same as the original, and - if possible at all -touching a painting by Perugino or Pontormo to mention just two of the great masters, is to connect in a way no words can describe, and is a great inspiration. It has taken me many years to peel off my belief in authority - how one SHOULD paint or NOT. Now I know, I must stay loyal to whatever inspiration leads me to - and accept whatever it looks like!
FUTURE I believe that beauty, colour, balance and harmony influence us all very much – and so does the lack of it! Therefore it is positive to create something, which makes the viewer feel good – in harmony – peaceful – and that it is a modest, but valuable contribution towards peace. I have chosen to work in solitude for a very long time – I felt it was the only way, I could find my own way through all the corridors of creative possibilities – always hoping, that one day something would crystallize from my search – that I clearly would see the direction, which was mine. That happened a few years ago, and I am so grateful for that, and I do hope, I can develop it much further in the years to come.
CV
1965. Diploma in design and tailoring.
1965 - 1968. My own school of dressmaking in Copenhagen.
1968 - 1970. Worked in the Theatre and on films as a costumier.
1970 - 1972. Studied Theatre history at Copenhagen University.
1973. Started working creatively, with fabric and paper collages. Later with paintings.
1982. First exhibition of collages at the New Art Centre, Sloan St. London.
1982 - 1989. Exhibitions in Edinburg, London, Copenhagen, Philadelphia.
1986 - 1987. Studied art and drawing at John Cass Art School, London Polytechnic.
1992 Cambridge University Proficiency Certificate in English in Oxford.
2002 - 2005. The Institute of Art Therapy. Breininge, Denmark. Diploma in june 05.
2003. Courses in `Spiritual Mandala´ drawing with Judith Cornell Ph.D, California. USA
2004. Assistant to Dr. Judith Cornell, teaching at Mount Madonna, California. USA
2003 - 2006. Private clients (Art Therapy) in London and Copenhagen.
1986 - 2006 attended several courses in self development, while exploring various ways of painting.
2014 – Exhibition at ArtExpo april 2014 New York
2014. Chosen by "ArtBusinessNews Magazine, USA, as one of the "Top Emerging Artist" in 2014.
2015 – Exhibition at the international Art Biennale in Palermo in January in Italy.
2015 – Exhibition in Galleri Dante in Firenze in March in Italy
2015- Exhibition at Moma, Barcelona april.
2015 – Exhihibition Carousell de Louvre Paris in June.
2015 – Exhibition at the Tuiliere gallery Paris in september
2015 – Exhibition in Palermo october-nov.
2016 Exhibiiton in Budapest in august
2017 Exhibition London Art Festival (Won painters third prize)
2017 Exhibited at Art-Nordic Copenhagen
2017 Exhibited at the biennal at Chianciano september
2018 Exhibit at Art-Nordic in Copenhagen
2019 planned exhibition at London Art Festival in May
2019 Exhibit at Art -Nordic Copenhagen.
Won: Danish artist of the year 2019.
2019 London Art Biennale.
Won painters third prize
2019 Exhibited at The Royal Operahouse in Copenhagen
2020 Exhibiting at Art-Nordic in Copenhagen……..cancelled because of corona virua
2020 Exhibition Krudthuset Kronborg castle Denmark...cancelled because of corona virus
2020 Exhibition Gagliardi Gallery london in november
----------------------------------------------------------------------------------------
In Italien:
Kirsten Høst è un, artista danese, che vive in Danimarca, e che ha intrapreso una nuova fase della sua vita e di lavoro, dopo aver trascorso 30 anni a Londra, Inghilterra. Questa nuova fase emana da una convinzione di fiducia e certezza che c'e' un tracciato per ognuno di noi, se permettiamo ai nostri veri doni a svolgersi in modo naturale. Questa fiducia le ha permesso di trovare una nuova visione e una nuova voce lavorando con pittura ad olio e acquerello / inchiostro / collage.
Il lavoro di Kirsten e' fortemente influenzato dalla geometria, che lei vede riflessa in tutti gli aspetti del nostro universo. Questo tema èstato rafforzato dal suo studio meticoloso e dell'ammirazione dei grandi pittori rinascimentali nei musei in Italia, in particolare Firenze, Perugia e Venezia dove ha trascorso molto tempo. Il lavoro di Kirsten inizia spesso con una forma geometrica e con una mente aperta, dalla cui ispirazione sviluppa una vita e una vibrazioni propria.
Il suo lavoro èstato esposto a Londra, Edimburgo, Copenhagen, Philadelphia e New York e presto sarà esposto in Italia.
Dopo la sua prima mostra personale a Londra nel 1982, Ronald Alley, poi curatore alla Tate Gallery, ha scritto: "I collage di Kirsten Hoest nascono dall'immaginazione, e simboleggiano tutta una gamma di emozioni. Con pochi colori Lei è in grado di evocare paesaggi completi, spazio, luce e gioia. Altri collage raffigurano scene piu' drammatiche della vita, esprimendo il dolore e la paura, ma mai senza speranza!"
Geometria Ho amato geometria da quando ero bambina e ho sempre avuto un compasso e un righello con me. Dal 2000 ho studiato la geometria sacr e il mio fascino della geometria e il mio amore di colori combinati con il desiderio d'esprimere le emozioni e le impressioni hanno ispirato il mio modo attuale di lavoro. Ho cercato per molti anni di trovare un'espressione - una voce - che non e' venuto dal mio cervello, ma dal mio essere, e spero che questo e'cio' che finalmente è accaduto. L'universo è una costruzione geometrica, e mi affascina quanto sia semplice e allo stesso tempo incredibilmente è complicato.
Ispirazione La mia ispirazione viene da molti angoli inaspettati: qualcosa che vedo in natura - un film - o un sogno che ho avuto - ma soprattutto ora, quando costruisco i miei disegni geometrici. Improvvisamente voglio scoprire qualcosa nella costruzione e svilupparla senza pensarci molto. Mi dimentico del tempo e del luogo - quelle ore sono ore di fèlicità! M`ispira anche l`essere di fronte a un vecchio dipinto, eseguito centinaia di anni fa, malgrado le sofistica tecniche fotografiche non sarà' mai come l`originale, toccare un dipinto è collegarli a un punto tale che nessuna parola può' descrivere, ed è' una grande ispirazione. Mi ci sono voluti molti anni per staccare la mia fede in autorità - si dovrebbe dipingere o NO. Ora io so devo rimanere fedele a tutto ciò' che l'ispirazione mi porta a - e di accettare tutto ciò' che sembra!
Futuro Io credo che la bellezza, il colore, l'equilibrio e l'armonia ci influenzano molto - e così fa la mancanza di essa! Pertanto è positivo per creare qualcosa, che fa sentire lo spettatore bene - in armonia - pacifica - e che è un contributo modesto, ma prezioso verso la pace. Ho scelto di lavorare in solitudine per un tempo molto lungo - ho sentito che era l'unico modo, sono riuscito a trovare la mia strada attraverso tutti i corridoi di possibilità creative - sempre sperando che un giorno qualcosa sarebbe cristallizzare dalla mia ricerca - che chiaramente vedrebbe la direzione, che era il mio. Quello che è successo alcuni anni fa, e io sono così grato per questo, e spero, posso sviluppare molto di più negli anni a venire.
CV
1965. Diploma in design e sartoria.
1965 - 1968 La mia scuola di sartoria di Copenaghen.
1968 - 1970 Ha lavorato in teatro e in film come costumista.
1970 - 1972, ha studiato Storia del Teatro presso l'Università di Copenaghen.
1973. Iniziato a lavorare in modo creativo, con tessuto e carta collage. Più tardi, con dipinti.
1982. Prima mostra di collages presso il Centro d'Arte Nuova, Sloan St. Londra.
1982 - 1989 Mostre a Edimburgo, Londra, Copenhagen, Philadelphia.
1986 - 1987 Arte studiato e disegno a John Cass Art School, London Polytechnic.
1992 Università di Cambridge Proficiency in inglese a Oxford.
2002 - 2005 L'Istituto di Arte Terapia. Breininge, Danimarca. Diploma.
2003. Corso di `spirituale Mandala 'disegno con Judith Cornell Ph.D, California. Stati Uniti.
2004. Assistente Dr. Judith Cornell, l'insegnamento a Monte Madonna, California. Stati Uniti.
2003 - 2006 clienti privati (Arte Terapia) di Londra e Copenaghen.
1986 - 2006 frequentato diversi corsi di sviluppo autonomo. Attraverso tutti questi anni ha continuato la pittura.
2014 - Mostra presso ArtExpo aprile 2014 New York.
2014 - Scelto da "Artbusinessnews Magazine, Stati Uniti d'America, come uno dei - TOP ARTISTI EMERGENTI nel 2014.
2015 - Mostra presso la Biennale Internazionale d'Arte di Palermo, Italia, nel mese di gennaio.
2015 - Mostra a "Galleri Casa di Dante" a Firenze, Italia in marzo.
2015- Exhibition at Moma, Barcelona april.
2015 – Exhihibition Carousell de Louvre Paris in June.
2015 – Exhibition at the Tuiliere gallery Paris in september
2015 – Exhibition in Palermo october-nov.
2016 Exhibiiton in Budapest in august
2017 Exhibition London Art Festival (Won painters third prize)
2017 Exhibited at Art-Nordic Copenhagen
2017 Exhibited at the biennal at Chianciano september
2018 Exhibit at Art-Nordic in Copenhagen
2019 planned exhibition at London Art Festival in May
----------------------------------------------------------------------------------------
På dansk:
Kirsten Høst er en dansk kunstner, der nu bor i Danmark, der har indledt en ny fase i sit liv og arbejde, efter at have tilbragt 30 år i London, UK. Denne nye fase hidrører fra en sikker tro på og tillid til, at der er en plan for hver enkelt af os, hvis vi tillader vores sande gave at udfolde sig naturligt. Denne tillid har tilladt hende at finde en ny vision og en ny stemme i sine arbejder med oliemaleri og akvarel / blæk / collager.
Kirstens arbejde er stærkt påvirket af geometri, som hun ser afspejlet i alle aspekter af vores univers. Dette tema blev forstærket af hendes studier af og beundring for de store renæssance malere i museerne i Italien, hvor hun har tilbragt længere perioder, især i Firenze, Perugia og Venezia. Kirsten`s arbejde starter ofte med en geometrisk form og et åbent sind, hvor inspirationen udvikler sit eget liv og sine egne vibrationer.
Hendes arbejde har været udstillet i London, Edinburg, København, Philadelphia og New York i USA, og vil blive udstillet næste år i Palermo og Firenze i Italien.
Efter hendes første soloudstilling i London i 1982, Ronald Alley, dengang kurator på Tate Gallery, skrev: Kirsten Høst`s collager udspringer fra fantasien, og symboliserer et helt spekter af følelser. Med blot et par farvede flader er hun i stand til at fremkalde komplette landskaber, lys og glæde. Andre collager skildrer mere dramatiske scener af livet, der udtrykker smerte og frygt, men aldrig uden håb!
GEOMETRI Jeg har elsket geometri, siden jeg var en lille pige, og har altid haft et kompas og en lineal med mig. Siden år 2000 har jeg studeret hellig geometri. Min fascination af geometri og min kærlighed til farver kombineret med et ønske om at udtrykke følelser og indtryk, har inspireret den måde, jeg arbejder på nu. Jeg har i mange år søgt at finde et udtryk - en stemme - som ikke kom fra min hjerne, men fra mit væsen, og jeg håber, at dette er, hvad der endelig er sket. Universet er en geometrisk konstruktion, og det fascinerer mig, hvordan det kan være så enkelt og samtidig så utrolig kompliceret, som det er.
INSPIRATION Min inspiration kommer fra mange uventede hjørner: noget, jeg ser i naturen - en film - eller en drøm, jeg har haft - men for det meste nu, når jeg konstruerer mine geometriske tegninger. Pludselig opdager jeg noget i konstruktionen, og jeg udvikler det uden at tænke meget over det. Jeg glemmer tid og sted - disse timer er meget glade timer! Stående foran et gammelt maleri, skabt for flere hundrede år siden, inspirerer mig. DOG sofistikerede teknikker er det nye foto - det vil aldrig være det samme som originalen, og - hvis det er muligt på alle -touching et maleri af Perugino eller Pontormo for blot at nævne to af de store mestre, er at forbinde på en måde, ingen ord kan beskrive, og er en stor inspiration. Det har taget mig mange år at skrælle min alt i autoritet - hvordan man skal male eller ej. Nu ved jeg, må jeg forblive loyale over for, hvad inspiration fører mig til - og acceptere, hvad det ligner!
FREMTIDEN Jeg troede skønhed, farve, balance og harmoni påvirke os alle meget - og det gør manglen på det! Derfor er det positivt at skabe noget, som gør beskueren føler sig godt - i harmoni - fredelig - og gjorde det er et beskedent, men værdifuldt bidrag til freden. Jeg har valgt at arbejde i ensomhed i meget lang tid - jeg følte det, at den eneste måde, jeg kunne finde min egen vej gennem alle gangene på kreative muligheder - altid håbet, gjorde en dag skete der noget ville krystallisere fra min søgning - at jeg klart vil se retning, hvilket var mit. Det skete for et par år siden, og jeg er så taknemmelig for, og jeg håber, jeg kan udvikle det meget yderligere i de kommende år.
CV
1965 Diplom i design og skrædderi.
1965 - 1968 Min egen skole syning i København.
1968 - 1970 Arbejdede i teatret og på film som en kostumier.
1970 - 1972 Studerede Teater historie ved Københavns Universitet.
1973. Begyndte at arbejde kreativt, med stof og papirklip. Senere med malerier.
1982 Første udstilling af collager på New Art Centre, Sloan St. London.
1982 - 1989 Udstillinger i Edinburgh, London, København, Philadelphia.
1986 - 1987 studerede kunst og tegning på John Cass Art School, London Polytechnic.
1992 Cambridge University duelighedstegn på engelsk i Oxford.
2002 - 2005 Institut for Art Therapy. Breininge, Danmark. Diplom d. 5. juni.
2003 Kurser i `Spirituel Mandala' tegning med Judith Cornell Ph.D, Californien. USA.
2004 Assistent til Dr. Judith Cornell, undervisning på Mount Madonna, Californien. USA.
2003 - 2006 Private kunder (Art Therapy) i London og København.
1986 - 2006 deltaget i flere kurser i selvudvikling, samtidig med at udforske forskellige måder at male.
2014 - Udstilling på ArtExpo april 2014 i New York.
2014. Udvalgt af "ArtBusinessNews Magazine, USA, som en af de 40 "Top Emerging Artist" i 2014.
2015 - Udstilling på den internationale kunst Biennale i Palermo i januar i Italien.
2015 - Udstilling i Galleri Dante i Firenze i marts Italien.
2015- Exhibition at Moma, Barcelona april.
2015 – Exhihibition Carousell de Louvre Paris in June.
2015 – Exhibition at the Tuiliere gallery Paris in september
2015 – Exhibition in Palermo october-nov.
2016 Exhibiiton in Budapest in august
2017 Exhibition London Art Festival (Won painters third prize)
2017 Exhibited at Art-Nordic Copenhagen
2017 Exhibited at the biennal at Chianciano september
2018 Exhibit at Art-Nordic in Copenhagen
2019 planned exhibition at London Art Festival in May
KIRSTEN HØST "Guddommelig geometri"
Kirsten Høst er en dansk kunstner med et utvivlsomt talent, der på disse sider viser frugterne af sine seneste tanker omkring sit liv og sin verden. Kunstneren er gennemstrømmet af en overbevisning om, at for hver af os er der en større plan, der kun bliver til virkelighed, hvis vi følger den livgivende, nærmest guddommelige energi, der gennemstrømmer vores eksistens.
Symmetrien og den geometriske komposition, der bebor disse værker, beskriver en præcis og meget kultiveret artistisk rigdom, der fører beskueren frem til opdagelsen af en verden, skabt af drømmens materiale. Himlen og baggrunden falder sammen i en blød blå dis, som harmonisk fusioneres i geometrien af den strukturelle komposition: personerne er repræsenteret på en antydende og stiliseret måde. Et ligevægtigt univers mellem det virkelige og det imaginære. Lige og skarpe linjer veksler med bløde træk, men altid klart defineret.
Stående foran ethvert af Kirsten Høst's billeder modtager vi en følelse af fred og overjordisk sindsro: her er et perfekt mikrokosmos i harmonisk tegning, lys og farver, hvor hver detalje bidrager til at give liv til en kromatisk symfoni, der ønsker at udvide billedets grænser.
Kirsten Høst's billeder taler et universalt sprog gennemvævet af gode følelser og håb: billederne forvandler realistiske tanker og beskrivelser til en personlig hymne til skabelsens harmoni.
Alessandra Alagna April 2015
English:
KIRSTEN HØST DIVINE GEOMETRY
Kirsten Høst is a Danish artist of doubtless talent, who in these pages shows the fruit of her latest thoughts about life and her world. The artist is permeated by the conviction, that for each one of us, there is a higher plan, which only can be a reality, if we follow the life-giving, almost divine flow of energy, which streams through our existence.
The symmetry and the geometric compositions, which live in these works, describes a precise and very cultivated artistic richness, which guides the viewer to discover a world, created by dream material. The sky and the background merge into a soft blue mist, which harmoniously blends into the geometry of the structural composition; people are represented in a hinted and stylistic way. It is a balanced universe between the real and the imagined. Straight and sharp lines altering with soft curves – always clearly defined.
Standing in front of any of Kirsten Høst`s paintings we receive a feeling of calm and unearthly peace of mind; there is a perfect micro-cosmos in harmonic drawing, light and colour, where every detail adds and gives life to a chromatic symphony, which desires to expand the borders of the painting.
Kirsten Høst`s paintings speak a universal language penetrated by good feelings and hope. The paintings transform realistic thoughts and descriptions into a personal hymn to the harmony of creation.
Di dott: Alessandra Alagna April 2015
Italiano:
KIRSTEN HØST
Kirsten Høst e` un´artista danese di indubbio talento che in queste pagine illustra il frutto delle sue ultime riflelssioni sulla vita e sul mondo. L´artist e´pervasa dalla convinzione che per ognuno di noi ci sia un desegno piu´grande, che si realizza solo se seguiamo il flusso vitale, e direi quasi divino, che impregna le nostre esistenze.
La immetria e la compostezza geometrica che abitano queste opere, desrivono il rigore di una ricerca atistica assai colta, che conduce l`ossevertore alla scopertadi un mondo fatto della materia dei sogni. I cieli e gli sfondi sono declinati in morbidi azzurri sfumati, che armonicamente si fondono alle geometrie delle strutture compositivi; I personaggi vengono rappresentati anch´essi in modo allusivo e stilizzato. Un universo in bilico tra il reale e l´immaginario. Linee rette e spigolose si alternano a tratti morbidi, ma sempre definiti in maniera nitida.
Di fronte ad ogni dipinto di Kirsten Høst proviamo sentimenti di pace e divina serenita`: e`un microcosmo perfetto e armonico di disegno, luce e colore dove ogni dettaglio concorre a dar vita a una sinfonia cromatica che sembra volersi estendere oltre i limiti del quadro.
Le opere di Kirsten Høst parlano un lingguaggio universale pervaso di buoni sentimenti e speranza: le immagini perdono ogni connotazioni reaalistica e descrittiva per assumere il valore di un canto personale innalzato allármonia del creato.
Alessandra Alagna Aprile 2015
KIRSTEN HØST KÆRLIGHEDENS GEOMETRI
"Maleriet er ikke skabt til at udsmykke vore boliger. Det er et værktøj til angreb og forsvar mod "fjenden" ! " Pablo Picasso understregede med denne sætning, at maleriet kan være et af skaberens velplacerede remedier, en kraft i malerens hænder, til at kommunikere HANS budskab til verden.
Et budskab der udvikler sig gennem erfaring, og fortolkes af den sindstilstand maleren dagligt befinder sig i. Når vi studerer Kirsten Høst`s værker, bemærker vi en meget intens visuel fortælling. Hendes billedsprog er mangfoldigt. Farver og linier repræsenterer en ny verden, hvori kærligheden hersker. En betingelsesløs og tidsløs kærlighed. En kærlighed der overvinder usikkerhed og livets fortrædeligheder, og som beskriver, med den klareste forståelse, det som alle Guds børn føler.
Gennem sine lærreder bringer Kirsten os ind i en fortryllet verden. Uendelighedens farver drypper fra hendes pensel, mens hun maler sine geometriske former. En kromatisk regnbue karakteriserer Høst`s værker. Det er en geometri, der trækker tilskueren ind i kærlighedens univers. I disse værker indåndens den reneste luft. Kirsten bringer os ind i nye fortryllede haver i et jordisk paradis. Høst er en kunstner med et blødt og dybt udtryk, der er som poesi, som en nattergals sang om foråret, frisk og fuld af klassiske og lyriske referencer. Kunstneren undersøger de dybeste aspekter af menneskets sind og eviggør dem gennem sit autentiske billedværk. I kunstnerens malerier bliver drømmen til en ekstatisk kærlighed . Kærligheden og glæden ved livet bliver til et ledemotiv i værkerne af denne formernes romantiske digterinde. En digterinde som maler sit eget sande og lysets poesi.
Dott: Salvatore Russo.
Art critic. Curator
KIRSTEN HØST The Geometri of love
"Paintings are not created to decorate our abodes. They are a weapon to defend and attack the enemy"!" Pablo Picasso underlined with this sentence, that painting can be the Creators well-placed tool, a weapon in the hands of a painter, enabling him to communicate HIS message to the world.
A message which developes through experience, and is interpreted through the painters state of mind in daily life. When we study Kirsten Høst`s works, we notice a very intens visual story. Her painting language is manyfold. Colours and lines represent a new world, in which love dominates. An unconditional and timeless love. A love which overcomes insecurity and life`s troubles, and which describes, with the clearest understanding, all that, which God`s children do feel.
Through her canvases Kirsten draws us into a mesmerizing world. Colours of infinity drip from her brush, while she paints her geometric forms. A cromatic rainbow caracterize the works of Kirsten Høst. This is a geometry, which draw the viewer into a mesmerizing garden in paradise on earth. Høst is an artist with a soft and profound expression, which is like poetry, like a nightingales song in the spring, fresh and full of classical and lyrical references. The artist investigates the deepest aspects of the human soul and eternalize them through her authentic works of art. In the artists paintings the dream becomes estatic love. Love and the joy of life become a leit-motiv in forming the work of this romantic poet. A poet who paints her own and the light of poetry.
Dott: Salvatore Russo.
Curator and art critic.
Kirsten Høst La geometria dell'amore
"La pintura no se ha inventado para adornar las habitaciones. La pintura es un arma ofensiva, en la defensa contra elenemigo". "La vernice non è destinata a decorare gli appartamenti. È un'arma offensiva e difensiva contro il nemico". Pablo Picasso specificava con questa frase quanto la pittura potesse essere una forte presa di posizione da parte del creatore, un'"arma" nelle mani del pittore per comunicare il suo messaggio al mondo. Un messaggio che nasce dalle esperienze e dagli stati d'animo con i quali l'artista si confronta giornalmente. Osservando le opere di Kirsten Høst, notiamo un racconto visivo molto intenso. Il suo linguaggio pittorico è variegato. Colori e segni rappresentano un nuovo mondo, in cui, a dominare è l'amore. Un amore incondizionato e senza tempo. Un amore che supera le incertezze e i malesseri della vita, e si traduce nel sentimento più puro: quello che rende tutti gli uomini figli di Dio. Attraverso le sue tele, Kirsten, ci porta in un mondo incantato. Traccia la sua geometria del segno che intinge il suo pennello nei colori dell'infinito. Un arcobaleno cromatico, caratterizza l'operato della Høst. Una geometria che proietta l'osservatore nel nuovo universo dell'amore. In queste opere si respira un'aria pura. Kirsten ci porta in quei nuovi giardini incantati del Paradiso terrestre. Høst è un'artista dal tratto morbido e profondo come una poesia, come un canto d'usignolo in primavera, fresco e carico di saggi rimandi classici e lirici. L'artista indaga sui più profondi aspetti dell'animo umano eternizzandoli nel gesto pittorico autentico. Nella pittura dell'artista il sogno diventa un'estasi d'amore. L'amore e la gioia per la vita, diventano il leit motiv, della pittura della poetessa romantica del segno. Una poetessa che dipinge delle vere e proprie poesie di luce.
Dott: Salvatore Russo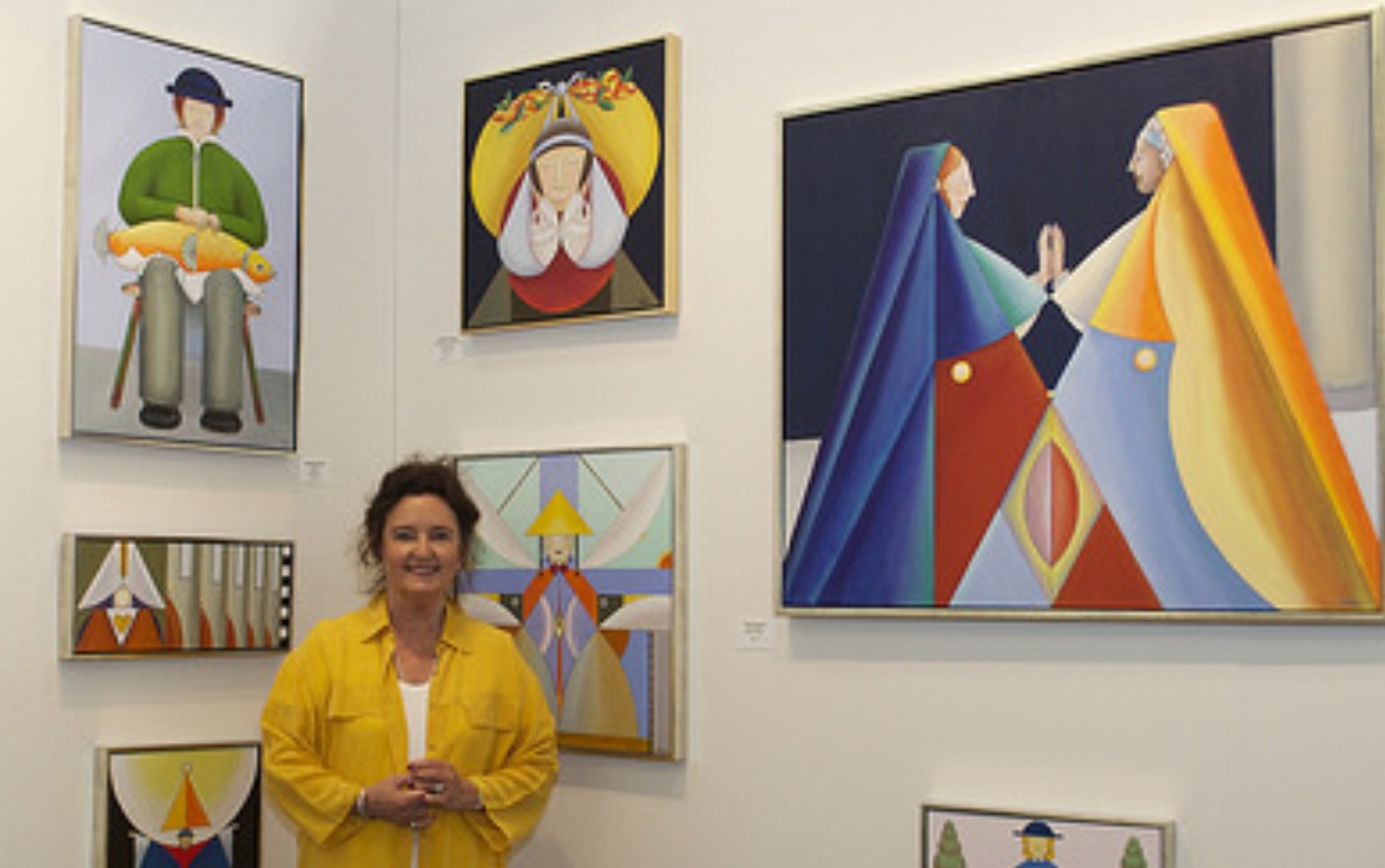 At ArtExpo New York in april 2014.
In English:
KIRSTEN HØST
The Critique
Kirsten Høst is a surprising Danish artist.  Two aspects of her paintings jump out, like open arms beckoning us in a warm embrace: serenity and naivete', which are both conveyed through the purity of colour and form. The sensitive handling of warm, glowing colours evoke an almost fairy tail atmosphere that is further enhanced by the mellow chiaroscuro typical of the Classical style.
Another striking element is the geometry around which her creative drive develops and grows. The origin is always a geometric form from which the subject or the painting begin to take shape.  Graphic elements of line, colour planes and spaces are set in motion by an enrapturing energy that evolves from Kirsten's mind. The geometric elements, painted in basic colours, then become the figurative elements that enrich the emotional outcome of her artwork.
The subjects of Kirsten's canvases are also very intriguing.  At first glance they seem to come straight out of an anthology by her compatriot Hans Christian Andersen.  Stories of simple characters like the fisherman, the country woman, the bastaix, depicted in their silent almost immobile composure.  But to a more in depth view the lives of these characters unravel before us and we can clearly see and empathise with their suffering and hardship.
Everything begins and revolves around geometry: the balance of the universe, the symmetry of elements, the meaning of life even, in its mathematical representation of perfection.  All this is what Kirsten Høst delivers to our senses stimulating emotions that leave a deep impression and in her own marvellous way, let's us continue dreaming the fable.
As Henrik Matisse said: "What I dream of is an art of balance, of purity and serenity devoid of troubling or depressing subject matter – a soothing, calming influence on the mind, rather like a good armchair which provides relaxation from physical fatigue", and Kirsten Høst's work is the good armchair in which even a master such as Matisse would have relaxed, to dream.
Karen Lappon
International Confederation of Art Critics
På dansk: 
Kirsten Høst er en overraskende dansk kunstner. To aspekter i hendes maleri springer frem, som åbne arme der trækker os ind i en varm favn:
klarhed og godtroenhed, som begge er udtrykt gennem renhed af farve og form. Denne følsomme måde at bruge de varme, strålende farver på vækker en næsten eventyragtig atmosfære som yderligere er understreget af de bløde chiaroscuro som er typiske for den klassiske stil.
Et andet slående element er geometrien omkring hvilken hendes kreative kraft gror og udvikler sig. Det begynder altid med en geometrisk form fra hvilket emnet eller maleriet begynder at tage form. Grafiske elementer af linjer, farveplaner og rum er sat i gang af en henrevet energi som udvikler sig i Kirstens sind. De geometriske elementer, malet i grundfarver, bliver så de figurative elementer som beriger det følelsesmæssige resultat af hendes kunstneriske værker.
Emnerne i Kirstens lærreder er også meget fængslende. Ved første blik ser de ud til at være kommet lige ud af en antologi af hendes landsmand H. C. Andersen. Historier om enkle mennesker som Fiskeren, Bondekonen, Bastaix'n, afbilledet i deres mest stille, næsten ubevægelige øjeblikke. Men ved et dybere eftersyn afslører disse karakterers liv sig for os, og vi kan klart se og sympatisere med deres lidelser og prøvelser.
Alt begynder og bevæger sig omkring geometri: universets balance, elementernes symmetri, selv meningen med livet, i dens matematiske repræsentation af perfektion. Alt dette er hvad Kirsten Høst giver til vore sanser, hvor det stimulerer følelser, der på hendes egen helt vidunderlige måde efterlader et dybt indtryk på os, og som lader os fortsætte med at drømme om eventyret.
Som Henri Matisse sagde: "Hvad jeg drømmer om er en kunst, som er i balance, som er ren og klar, blottet for bekymrende og deprimerende emner - en dulmende beroligende indflydelse på sindet, ligesom en god lænestol giver hvile for fysisk udmattelse", og Kirsten Høsts værker er den gode lænestol i hvilken selv en mester som Matisse ville sætte sig og slappe af, for at drømme.
Karen Lappon
International Confederation of Art Critics
LONDON